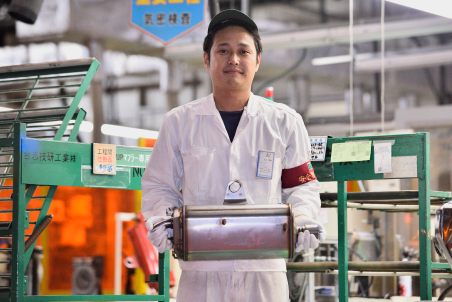 I belong to the Welding Subsection of Factory Section 1, and I'm in charge of commissioning new models and minimizing defects during production to provide stable quality in welded sections of motorcycle mufflers and frames. Welding may seem simple, but there are actually many different methods, and each differs considerably depending on metal thickness and material.
Recently, we've been getting requests for advanced techniques, such as thin-plate and titanium welding, so I've been studying constantly to build a good set of welding techniques so we don't lose out to other companies.
There's a lot of trial and error in order to make good looking welds that meet welding criteria with few corrections, and while a lot of things may not turn out as expected, but it makes me feel really good about my work when I see something we've made installed on an actual motorcycle.
I still have a lot to work on, but I'm doing my best every day to make sure that Goshi mufflers become famous around the world.